Ensuring Students Leave Penn State Prepared for the Job Market
The Penn State Master of Public Policy program is a professional degree program with curriculum that ensures that students have the skills to be job-ready. The program also programs unique professional development programming, opportunities and resources to students.
Our strategy:
Internship Placement
Career Coaching
Leadership 

Development

Professional

 

Development
We provide resources for our students including regular professional development opportunities and resources:
Wildfire Simulation Competition
Free Beta Competition
Food and drink will be provided and you will receive an official THANK YOU
LETTER from the Network of Schools of Public Policy, Affairs, and Administration.
Last but not least, you will have policy memos, presentations and pictures to
add to your professional portfolio.
ALL FOR FREE!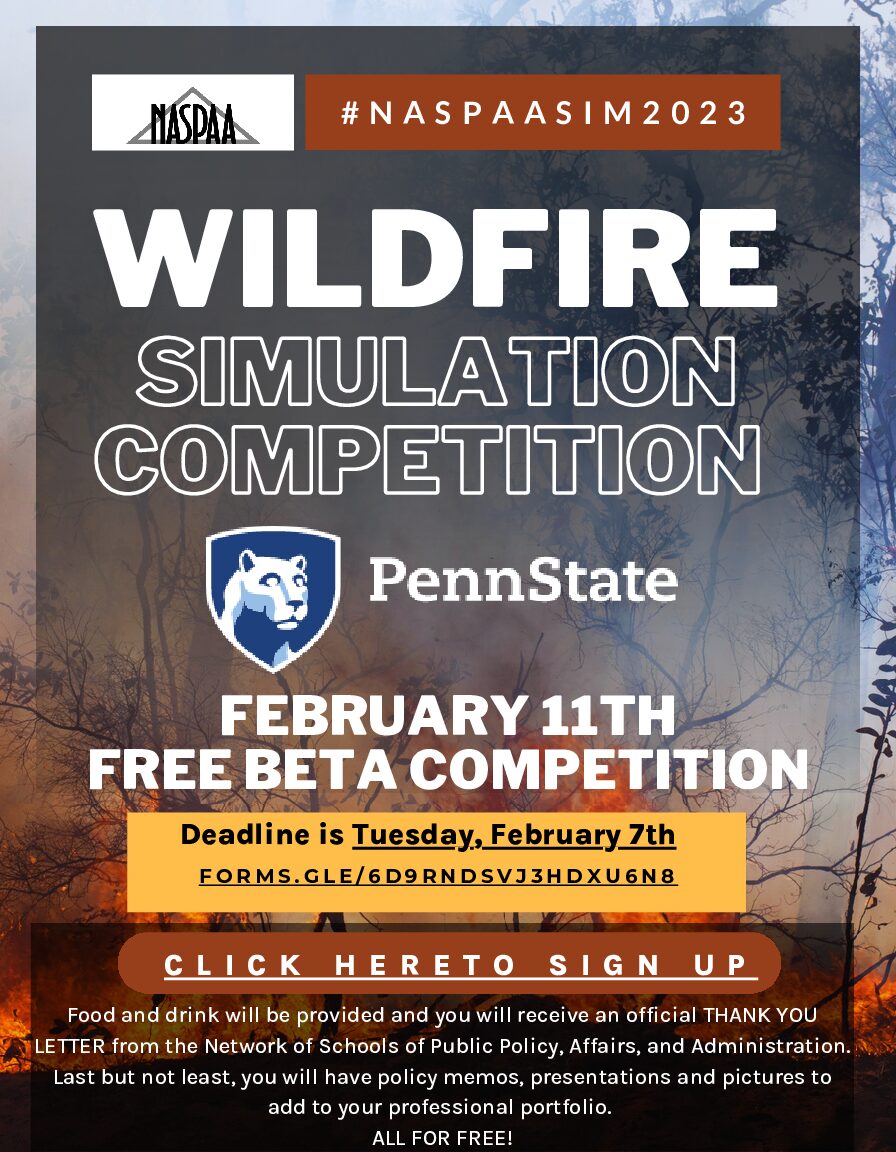 Policy Profiles: Tim Powderly
The School of Public Policy's leadership series spotlighting professionals with careers in public policy will feature Tim Powderly from Apple on Wednesday, February 8 at 11:30 a.m. EST.
Powderly has almost twenty years of experience working at the intersection of public policy and the technology industry. For more than eleven years, he has worked on a broad array of policy issues, including immigration, intellectual property, broadband deployment, tax, competition, workforce training and education, and data privacy and cybersecurity at Apple. Now Apple's senior director of government affairs for the Americas, Powderly is responsible for managing Apple's public policy advocacy throughout the region.
Before joining Apple, Powderly served four years as senior counsel to the House of Representatives' Subcommittee on Telecommunications and the Internet, where he advised members of Congress on a variety of telecommunications, accessibility, and media issues. He spent two years as a litigation attorney at Sidley Austin LLP in Chicago, Illinois, and five years in a public policy role at Covad Communications, a small broadband provider.
Powderly will join the "Policy Profiles" series to discuss his experience in public policy and the technology industry. He'll also take questions from attendees.