Since February 24, the ongoing war in Ukraine has drawn conscripts and volunteers into combat on both sides of the conflict. Before Russia's invasion, Ukrainians joined citizen militias to train on how they could defend themselves and their country if Russia crossed into Ukrainian Territory. President Volodymyr Zelensky moved to arm civilians with roughly 18,000 rifles in the Kyiv region alone. To acquire these firearms, citizens needed only to show an ID. Rounding out the defense capabilities of average citizens, Ukrainian officials took to the airwaves post-invasion to inform the citizens how to manufacture Molotov cocktails efficiently and where and how to attack Russian armored vehicles with them effectively.
Perhaps more worrisome, this issue extends beyond small arms. Since the fighting began, there have also been widespread reports of Ukrainian citizens capturing assorted Russian armored vehicles, including footage of a farmer allegedly finding an abandoned mobile anti-aircraft weapons system on his land, which emerged on Twitter. These reports are so widespread that the government even released a statement claiming that captured Russian vehicles will not be taxed as income. The U.S. and NATO have also sent several waves of Man-Portable Air-Defense Systems (MANPADS) to Ukraine to combat Russia's Air Force. The MANPADS are effectively portable surface-to-air explosives that can target fighter jets and other hostile aircraft.
While training, arming, and conscripting large chunks of the population may provide a tactical edge in this conflict, it remains to be seen how these steps will impact the region when the dust settles. The nation that comes out on top will have to contend with a heavily armed, trained, and battle-tested civilian population. If Russia succeeds in its quest to annex and occupy Ukraine, the Russian military will seize some of these weapons. Still, those they cannot locate will remain in the hands of non-state actors, potentially leading to an insurgency. If Ukraine proves successful in defending its borders and repelling the invading army, the question becomes more complicated.
Ukrainian citizens were allowed to own firearms before the conflict by getting a license through the government. Many newly minted gun owners may or may not report that ownership to the state in a post-war Ukraine. This would raise significant international policy issues for the Ukrainian government, the United States, and NATO. Retrieval of arms distributed within the country would need to become a priority primarily to prevent heavy firepower like MANPADS and anti-aircraft weapons systems and heavy vehicles like tanks and armored personnel vehicles from getting into the hands of bad actors.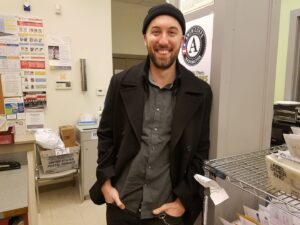 Peter Kurtz-Glovas, MPP '23, graduate research assistant interested in democracy, extremism, and social welfare