The School of Public Policy will welcome professionals who have pursued careers in policy to take part in a series of virtual discussions about their professional experience. We'll talk about how they have leveraged their public policy training in their careers. Some topics we will explore include — what they do, how their position impacts policy, what they have done to make an impact, and advice for students in their early public policy careers. 
Next Event: Wednesday, September 8 at 3:00 p.m.
Join us Wednesday, September 8 for "Profiles: Josh Korn," as we speak with the Penn State alumnus, Josh Korn, director, global innovation and technology public policy, Netflix, Inc.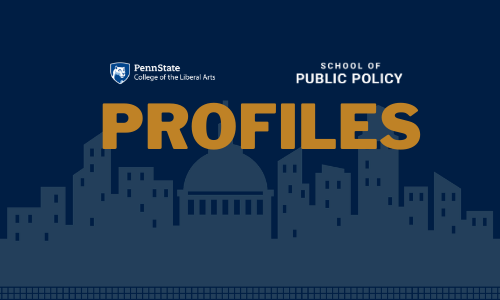 Schedule:
Wed., Sept. 8
3 p.m.
Josh Korn, D

irector,

Global innovation and technology public policy, Netflix, Inc.

Wed., Oct. 13
3 p.m.
Christian Soura,

South Carolina leader of Department of Health

Wed., Nov. 10
3 p.m.
Wed., Dec. 8
3 p.m.
Recent Events:
Wed., Feb. 10
3 p.m.
Joe Marie
Wed., March 10
3 p.m.
Natalie Krug

 Wed., April 14
3 p.m.
Wayne Palmer
Wed., May 12
3 p.m.
Isaac Moore,

Associate Director of Development for Student Affairs at the University of Maryland
Profiles: Wayne Palmer
On Wednesday, April 14, Wayne Palmer, former principal deputy assistant secretary for Mine Safety and Health (MSHA) in the U.S. Department of Labor joined us for the third discussion in our series. We discuss Palmer's extensive background and career path in both the legislative and executive branches of the federal government.
Wayne Palmer served in the previous administration as principal deputy assistant secretary at MSHA. Prior to that, he served as senior manager of congressional relations at the nonpartisan Center for Presidential Transition, educating presidential candidates' transition teams on the senate confirmation process. He previously spent 13 years in Congress, including as legislative director for Senator George Voinovich and chief of staff to Senate Republican Conference Chairman Rick Santorum, followed by senior roles at the U.K.'s 2nd largest pharmaceutical manufacturer and a boutique consulting firm where he launched the Rising Stars series of bipartisan delegations of U.S. state & local elected officials to China. He earned his bachelor's degree in political science from Penn State and master of government administration from the University of Pennsylvania, subsequently launching his career in Washington, D.C., as a presidential management fellow at the U.S. Department of Commerce, with rotations through the House Ways & Means Committee, Senate Steering Committee, and White House Office of Management & Budget.
Profiles: Natalie Krug
On Wednesday, Mar. 10 at 3:00 p.m., the "Profile" series featured Natalie Krug, director of the Bureau of Budget Analysis in the Pennsylvania Governor's Budget Office (GBO). She discussed her path to the Governor's office, the day-to-day operations of her work, and the differences between working for the government and working for nonprofits.
Natalie Krug has been with GBO for six years, previously serving as the Director of Policy. She holds a bachelor's of science in economics from the University of Delaware and a master's of public policy and management from Carnegie Mellon University. Prior to her time at GBO, Natalie worked at the Economic Policy Institute and Center for American Progress in Washington, D.C., and the Keystone Research Center in Harrisburg, PA. She resides in Mechanicsburg, PA, with her husband and son.
Profiles: Joe Marie
Wednesday, Feb. 10, 2021, the "Profiles" series featured special guest Joe Marie, senior vice president and managing director of WSP's Rail Transit Systems Group. WSP provides technical expertise and strategic advice to clients in the transportation and infrastructure; property and buildings; environment; industry; resources (including mining and oil and gas); and energy sectors, as well as offering project and program delivery and advisory services. He is also overseeing the East Side Access Project — the largest transportation infrastructure project currently being undertaken in North America.